JCAD Online Editor | May 1, 2017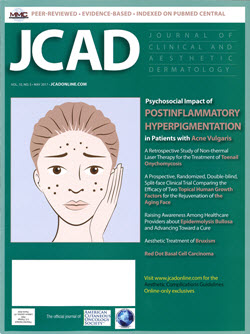 aKerry Zang, DPM; bRobert Sullivan, BSc (Hons) Podiatry, MSc Pod Surgery, PgCAcup, FIChPA, MInstChP; cSteven Shanks
aArizona Institute of Footcare Physicians, Mesa, Arizona
bMidleton Foot Clinic Group, Midleton, County Cork, Ireland
Erchonia Corporation, Melbourne, Florida
Disclosure: Dr. Zang reports no relevant conflicts of interest. Mr. Shanks is employed by Erchonia Corporation. This study was sponsored by Erchonia Corporation.
Objective
The objective of this study was to assess the efficacy of non-thermal
laser therapy for targeting toenail onychomycosis. Design: This retrospective
study analyzed the results of three nonrandomized, open-label studies. The
device used was a 635nm/405nm dual-diode laser. Affected toenails were treated
for 12 minutes weekly for 2 or 4 weeks. Setting: Treatments occurred in clinic
and private office settings. Participants: Subjects with onychomycosis-infected
toenails were enrolled. Measurements: Fifty great toenails were included in the
analysis based on visually identifiable onychomycosis; thickened, discolored
nail plate; and confirmed etiology of onychomycosis. Changes in the extent of
clear nail bed was measured using multi-platform image manipulation software.
The primary outcome measure was the percent of toenails attaining ?3mm of clear
nail growth during the six-month post-treatment period. Overall study success
was defined as ?60 percent of treated toenails meeting the individual success
criteria. The secondary outcome measure was change in the length of clear nail
bed. Results: Most treated toenails (67%) achieved individual treatment
success. The extent of clear nail at baseline increased by a mean of 5.18
(4.76) mm after 6 months (p<0.0001). In addition, 89 percent of treated
toenails demonstrated an increase in clear nail across the six-month study
period.  The new clear nail growth of these 89 percent was 6.18 mm.  No adverse
events were reported.